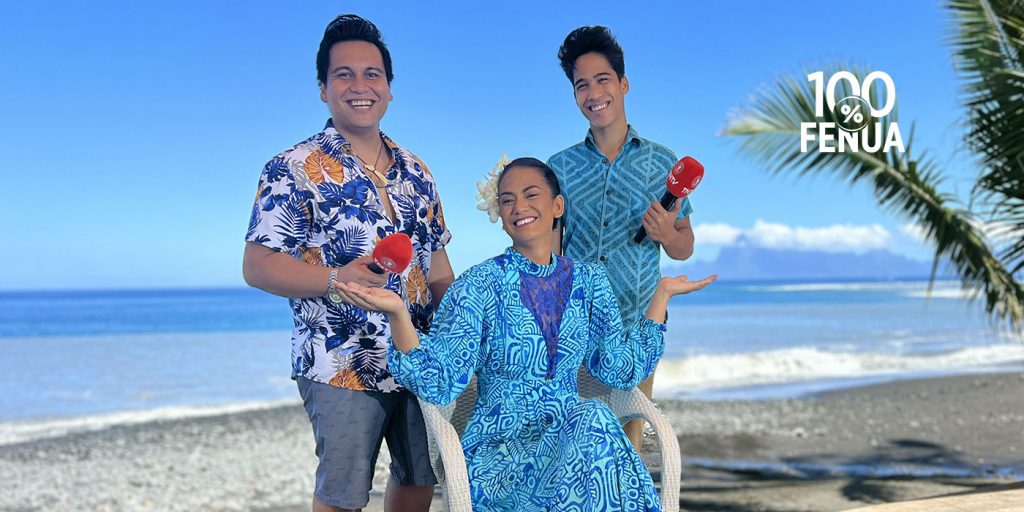 Tumata, Ariioehau and Haura©Fenua Access
100% FENUA – Monday, September 4, 5:25 p.m.join us now for the new season of Fenua Access, still presented by Tumata Vairaaroa with Ariioehau Taumihau and Haura Tarati in French and Tahitian.
The show changes its appearance with a brand new logo, updated main music theme and graphic design.
Airing Mondays, Tuesdays, Thursdays and Fridays at 5:25 p.m., this season promises to be the most exciting yet with the introduction of five new segments and a game that will highlight the cultural richness and talent of Polynesia.
" Ta'ere time – When Polynesian cultural heritage is in the spotlight »
This part will highlight traditional dances, ancestral customs and all the artistic expressions that are the pride of our heritage. Discover the treasures of our Fenua culture and let yourself be transported on an enchanting journey to the heart of our unique identity.
" Tamata Passion – Share and let us test your passion! » With Ariioehau and Haura
Whether it's cooking, water sports, nature tours or any other passion, this sequence invites our audience to share authentic experiences and introduce them to unique activities. Unleash your creativity and share your enthusiasm for your favorite hobbies.
" Hohoa news – News about movies, series or video games »
Stay in touch with the world of entertainment with Ariioehau in the redesigned Hoho'a News section. Stay up-to-date on the latest movie releases, can't-miss series and video games that are making a splash. Discover the trends that drive our audience.
" History of Upa Upa – Everyone can sing! »
Upa Upa Story, led by Haura, is back after a long absence. This is a great opportunity for all passionate music lovers. Polynesian musical talents will have a chance to shine in the spotlight. In this section, there is an open stage in a place chosen by the budding artist, where everyone can express their passion for music and share emotional moments with our loyal audience, telling their personal story and why the song they are performing is special to them. .
" TORO'A Zoom – Tell me about your work! »
Ariioehau and Haura invite you to highlight your profession and share your experience at Toro'a Zoom. The new version of this section will further emphasize professions that contribute to the diversity and development of our society. Share your daily life, your knowledge and your passion for your profession to inspire future generations.
Additional innovation with the Fenua Moni game win a 50,000 Fcp Gift Voucher at your chosen grocery store!
At the end of each show, Tumata will ask a multiple choice question about the content shown that day. Players will enter for free by answering a question found on the show's official Facebook page (as well as the official rules of the game, which will also be submitted to the bailiff). Several draws will then be made: one each week among the correct answers and the weekly finalist will be chosen; one at the end of the month among these finalists who will nominate the winner of the XPF 50,000 gift vouchers.
Be there for an enriching television experience full of sharing and pride in our wonderful Polynesia!
Fenua access
Monday, Tuesday, Thursday and Friday at 5:25 p.m. on TNTV
"Coffee maven. Bacon nerd. Infuriatingly humble beer expert. Explorer. Tv guru. General alcohol specialist. Gamer. Proud problem solver."