Tokyo, November 8, 2023 – Mitsubishi Heavy Industries, Ltd. (MHI) completed the delivery of the compact CO2 CO capture system2MPACT™ in September, which received an order from NGK INSULATORS, LTD. (NGK) last year. The system was installed near the tunnel kiln used to fire ceramics at the NGK plant in Nagoya, Aichi Prefecture, which recently began commercial operation. This is the second MHI CO2MPACT™ system for commercial use.
CO2The MPACT™ delivered to NGK has a capacity of 0.3 metric tons per day (tpd). The highly versatile standard design has been modularized to support a wider range of applications in different industrial areas, allowing for easy transport and installation and shorter delivery times. MHI received the CO order2MAPT from NGK aimed at a demonstration test for the use of captured CO2 This is the first attempt to use CO in the world2 they cover technology in the field of ceramics production.
CO2MPACT™ received the "Awards for Excellence" at the Nikkei Excellent Products and Services Awards (Note 1) 2022 in January 2023 and the "Award by The Japan Electrical Manufacturers' Association" at the 53rd Machine Design Award IDEA (Note 2) in July. The concept has been highly praised by customers and organizations in Japan and abroad. In the future, MHI will continue to increase its presence and strive for a wider use of CO2MPACT™ among stakeholders working towards carbon neutrality in various industrial fields and expanding business opportunities.
NGK strives to reduce CO emissions2 emissions from production facilities in the entire group of companies. NGK has adopted the "NGK Group Environmental Vision" with the goal of reducing CO to net zero2 emissions by 2050 and is accelerating efforts to reach net zero ahead of schedule with its "Net Zero CO2 Emissions project". Introduction of CO2MPACT™ is an extremely important and groundbreaking measure for NGK in terms of accelerating measures to achieve carbon neutrality, which is part of this project, and for MHI in terms of contributing to the decarbonization needs of new industrial areas.
The MHI Group has made a statement that it will achieve carbon neutrality by 2040 and is working towards strategic decarbonisation measures on both the energy supply and demand side. One of the central elements of the "energy transition", a supply-side decarbonisation strategy, is the establishment of CO2 an ecosystem of solutions that connects different sources of carbon emissions with storage and use solutions. Going forward, MHI Group will continue to firmly pursue its Carbon Capture, Use and Storage (CCUS) business based on its unique CO2 capture technology and, as a solution provider, contribute to the reduction of greenhouse gas emissions on a global scale and further develop solutions that help protect the environment.
1

For details on CO2MPACT™ Receives "Awards of Excellence" at the 2022 Nikkei Excellent Products and Services Awards, see the following press release:
https://www.mhi.com/news/230201.html

2

For details on CO2MPACT™ receives the "Japan Electrical Equipment Manufacturers Association Award" at the 53rd IDEA Hardware Design Awards, see the following press release:
https://www.mhi.com/news/230810.html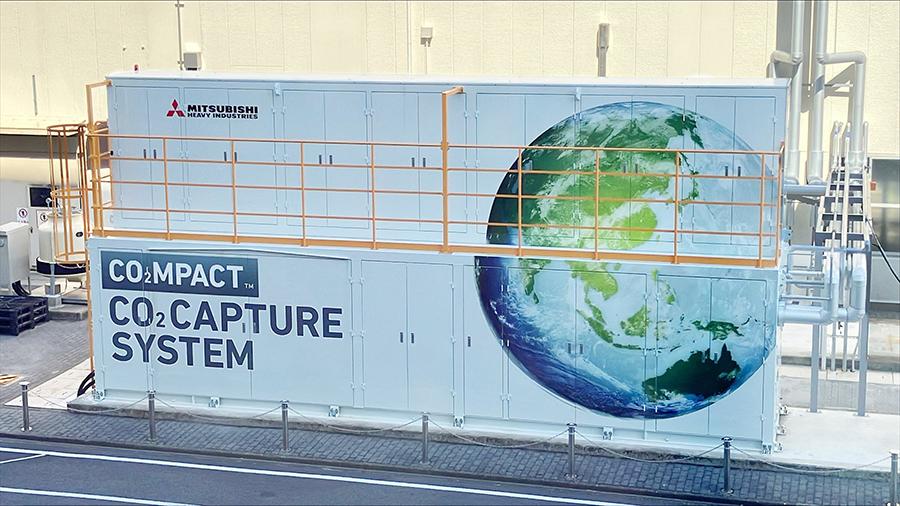 About MHI Group CO2 capture technologies
Since 1990, MHI Group has been developing the KM CDR Process™ (Kansai Mitsubishi Carbon Dioxide Recovery Process) and the advanced KM CDR Process™ in collaboration with The Kansai Electric Power Co., Inc. As of November 2023, the company has delivered 16 plants using the KM CDR Process™, with two additional plants currently under construction. The advanced KM CDR Process™ uses KS-21™ solvent, which incorporates technological improvements over the amine-based KS-1™ solvent used in all 16 commercial CO2 capture devices MHI has delivered to date. KS-21™ offers superior regeneration efficiency and lower spoilage than KS-1™ and is proven to provide excellent energy saving performance, lower operating costs and low amine emissions.
For additional information on MHI Group's CO2 capture of plants:

"Alcohol scholar. Hardcore tv junkie. Wannabe bacon enthusiast. Twitter fanatic. Subtly charming travel guru. Pop culture specialist."