MUMBAI: A well-known homegrown ice cream parlor is selling a flavor called assorted here. In the steamy and sticky conditions that always greet you in this vibrant metropolis, it's quite desirable because you get a big bowl and they serve you little scoops of all the flavors without having to pay for all the flavors.
If you look at India's top batting order in this World Cup, it resembles an ice cream bowl. You have dough for every situation. captain
Rohit Sharma
he is an enforcer who goes into the powerplay with devilish attitude, pulls the pacers, runs them through cover, flicks them over mid-wicket flamingo style with one leg in the air and bowls choppers. His 550 runs came with a stunning average and strike-rate combination of 55 and 124.15 with 28 sixes and 21 of them coming in the power play. Rohit has scored one century, one 80-plus, one 60-plus score and four forties. Everyone was pumped up with adrenaline and the shocks that let the opening partner go Shubman Gill settle and then attack and enable
Virat Kohli
doing what he does best – dropping anchor and either chasing the target or hitting deep when batting first and allowing the other batsmen to fire aggressively around him.
That Kohli is sandwiched between Rohit and Shreyas Iyer adds to the solidity of the batting line-up as Iyer also played with infectious fearlessness, as did No.5 KL Rahul.
Gill, who scored 80 in a 70-run win over New Zealand in the first semi-final at the Wankhede on Wednesday, explained his role as he opens alongside his captain.
"Everything about him really impresses me. I'm just standing at the non-striker's end and learning on the power play. He plays 10 overs and I can play 15-20 balls and rest. Rohit comes in and does his thing. Chauke chhakke maarte hain, main bas dekhta hoon (he's hitting fours and sixes, I'm just watching)," said Gill in the post-match media interaction.
Gill himself scored his 350 runs in eight matches at 108.02, hitting 12 sixes in eight matches. The learning for Gill doesn't just stop at Rohit. He really adores Virat Kohli, who took another giant step towards becoming a cricketing deity by surpassing Sachin Tendulkar's tally of 49 ODI hundreds.
Rohit's aggressive starts allowed Kohli to play the role of mentor to others in the lineup with less experience than him. Gill is one of them, already a star but on his way to carry the baton of superstardom from Kohli.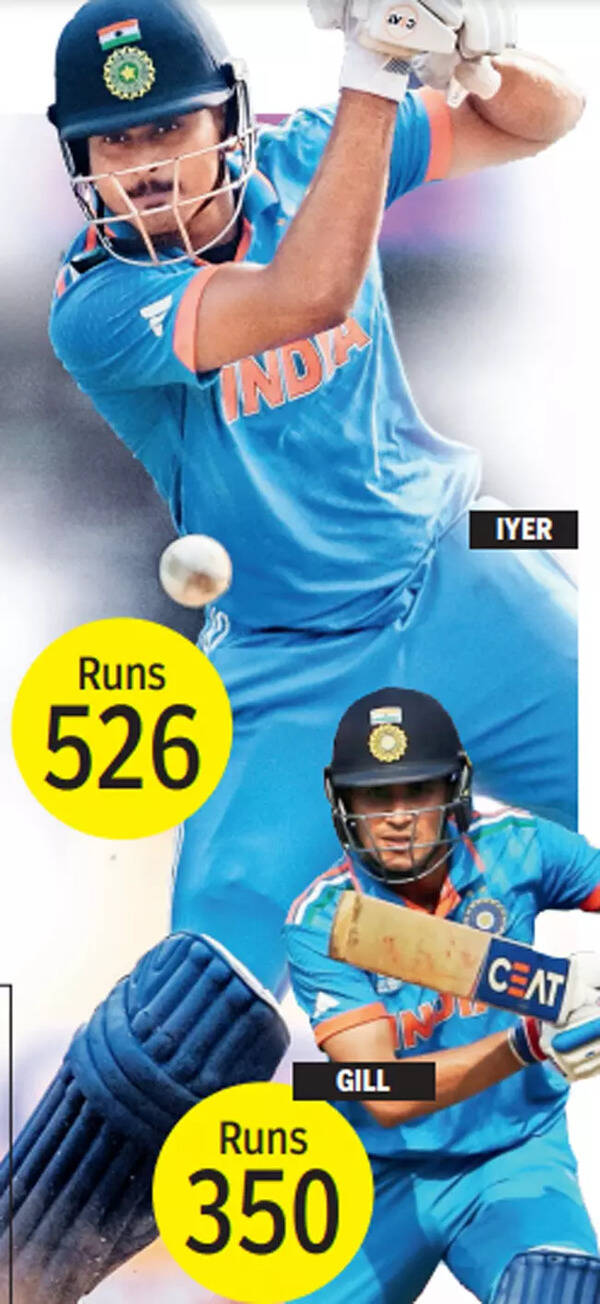 "He does something special every time he comes to the park and how consistently he has done that over the last 10-15 years is really inspiring," said Gill of Kohli. "It's not so much about the skill he has, it's more about the hunger and intensity he plays with.
"What really inspires me is to be able to have it consistently for as long as he played," he added.
New Zealand captain Kane Williamson also admitted that it was difficult to keep India in check as they came up with an attacking plan in the batting. He also hailed Kohli as the "best" batsman in the world and warned others that he could improve.
"I think if you play 50 games, some people will call it a great career. But getting 50 hundred…and not just how he goes about it, it's actually about winning games for his team. I think he's the best, right? And he seems to be getting better, which worries the opposition," Williamson gushed.
Iyer, who played a Rohit-type role but looked like he was playing golf at number four, doing what batsmen do in the nets during T20 games – practicing the long shot. It helps, of course, to have a captain and a coach who stand firmly behind you and don't put their necks on the chopping block for playing too much and perishing.
in process.
He scored back-to-back tons for India and the third after returning from injury. Rohit hinted at this in the pre-match press conference where he said his support for some players will not change depending on the results.
After Wednesday's game, he was praised for his batting attitude. "I am very happy to see what Iyer has done for us," he said.
After enduring a quiet time and falling into a clumsy shot haul early on, Iyer scored 526 runs at 113.11, becoming the first middle-order batsman to score more than 500 runs in all World Cups.
"Internet evangelist. Twitter fanatic. Hardcore entrepreneur. Incurable analyst. Extreme food junkie. Unapologetic tv maven. Reader."